I wanted to write a review about my experience participating in a 175 hour Teacher Training with Partner Acrobatics.
Perhaps you're considering participating in a teacher training with Partner Acrobatics but you're unsure whether it would be a fit for you. Perhaps you're trying to find out what the difference is between the AcroYoga International teacher training and the Partner Acrobatics teacher training. Perhaps you're just curious about what it's like to do an intensive acro teacher training. Hopefully this review post answers your questions. Feel free to comment below or email me if you have any questions!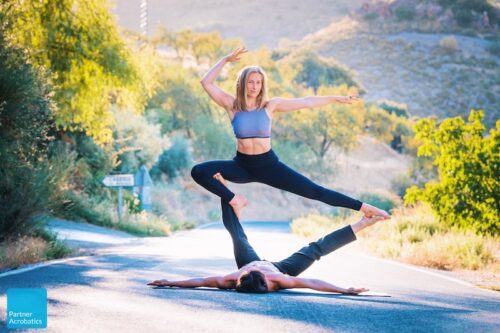 I can honestly say, that I had one of the best experiences of my life this past month. I just finished a 4 week long 175 hour acro yoga and standing acrobatics teacher training with Partner Acrobatics. It took place on a beautiful organic farm located in the mountains of Southern Spain.
I signed up for the teacher training to deepen my own acrobatics practice but I left with so much more than just a stronger acro practice. I can now call the 55 beautiful people I shared the experience with my friends. On a more personal level. I feel much more capable in my own body, clearer on which things I want to cultivate more of in my life and which parts I want to let go of. I've returned home feeling inspired to live my life to the fullest.
That's not to say that the past month didn't have its ups and downs, it definitely did! But already after week 1 the experience had given me so much more than I'd expected when I signed up.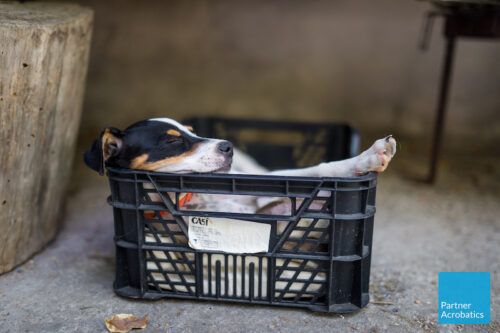 The Physical Practice
Aside from the 4-5 rest days and a couple more half rest days throughout the month, we were moving and practicing acro 6-8 hours every day of the teacher training.
Somehow the schedule was structured, so I felt like almost exactly when I really needed a break, a rest day would be on the schedule. The hour after breakfast and the 2 hours after lunch also made training the amount we did, possible. A lot of people spent that time relaxing by the pool or taking a nap. I 'accidentally' spent many of those breaks doing standing acrobatics in the pool (oops!).
Prehab
We started every morning with an hour of prehab before breakfast. The prehab classes included anything from mobility exercises to strength circuits to partner reaction time exercises. Even though I didn't give these classes much thought when signing up for the training, they quickly became a huge source of inspiration for my own movement practice.
I noticed a huge difference in my hip mobility at the end of the training thanks to the prehab classes. I plan to incorporate a lot of the exercises I learned during prehab into my movement/yoga practice.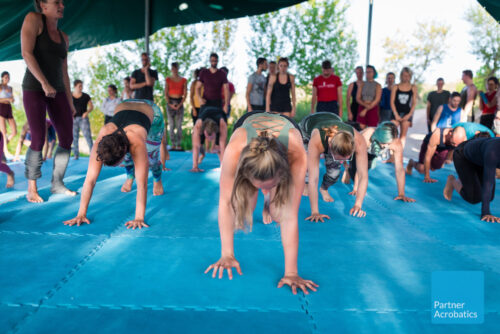 Handstand
We had twice daily handstand classes. One in the morning and one in the afternoon. There was a good amount of variety in the classes – some focusing on the strength and mobility foundations of handstands, some focusing on building proprioception for the straight freestanding handstand, some playing with different shapes of handstand, etc.
Although I initially didn't think my handstand improved during the first couple of weeks because I already knew lots of the drills we did, I ended up feeling a lot more solid in my handstand when I returned home. Practicing handstands consistently every day under the guidance of talented teachers really did do wonders for me.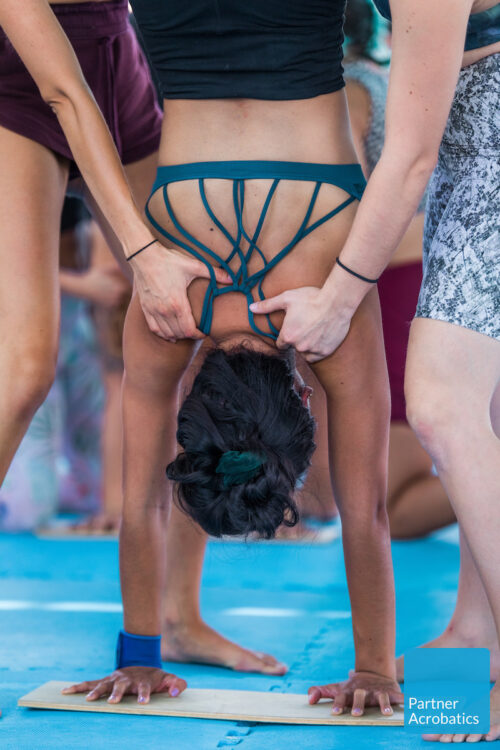 Acrobatics Workshops
Twice a day we had acro workshops. The workshops varied greatly as we practiced acro yoga, L-base transitions and flows, standing acrobatics, icarian, trios, pops, hand-to-hand, dance acro, and lots more.
There usually weren't any prerequisite requirements for the workshops, which meant that we all as a group followed the same curriculum and grew and learned as a group. Every workshop was a chance to work with a new group.
There's something about doing acro together that really speeds up the process of feeling comfortable around one another. I was amazed to experience that I actually felt like I knew everyone after the first 1 or 2 weeks, even though we were 55 people!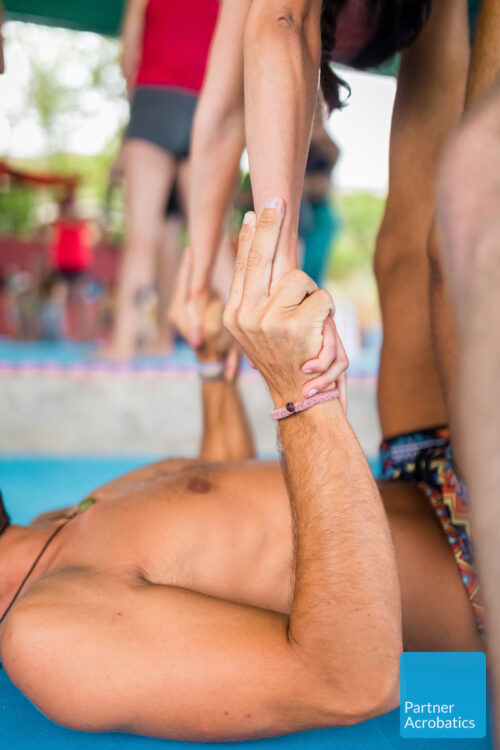 Practice Teaching
During the training we each had to practice teaching 4 times. 3 acro workshops (one of them public on open day) in groups of 3, and one handstand class in groups of 2.
Both teaching with different co-teachers and participating in classes taught by my fellow students gave me a lot of inspiration. We all learned a lot from the feedback given by teachers and students afterwards.
Therapeutics
Once or twice a week we had Therapeutics sessions in the evening. Some of the sessions were inspired by thai massage, whilst others were acro yoga inspired flying therapeutics.
The therapeutics taught me so much about the quality of gentle touch. How healing it can be to share touch in a less technical way than acrobatics.
Therapeutics is definitely something I want to go much deeper into at some other point in my life!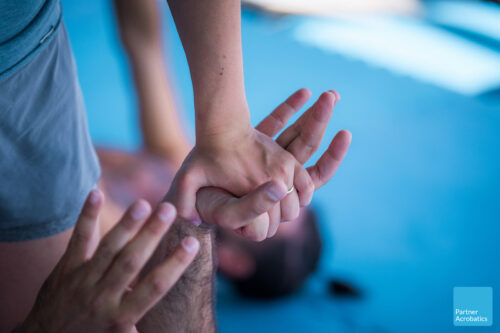 The Teachers
We had 6 teachers: Emily, Niko, Mimi, Gape, ZsaZsa, and Rhiannon on the Partner Acrobatics Teacher Training. They each brought their own personality into their teaching style, which was a great thing to see and learn from. I tried to write just a short snippet of my impressions of each and to who they are as acro teachers.
Emily Baxter
Super passionate, nerdy when it comes to body mechanics, very widespread knowledge of different (and sometimes strange) movement methods, warm and laughs a lot.
Niko Douwes
Old-school acrobat, discipline and technique focused, has lots of experience. If he sees unused potential in you, he will try to push you to achieve more.
Milette 'Mimi' Nunez
Funny, gives you tough love when she knows you can handle it, very talented at cueing and problem solving in acro tricks.
Ishine Gape
Makes all of the jokes all of the time, very talented, great at explaining and breaking down acro tricks to make them more attainable, amazing therapeutics teacher.
ZsaZsa Mak
Very sassy, self-ironic and super strong. At the same time a really good teacher with great problem solving skills.
Rhiannon Cherokee Wynn
Very warm, nice, listening. Strong lady base. Makes sure everything runs smoothly behind the scenes and go-to woman if you need anything.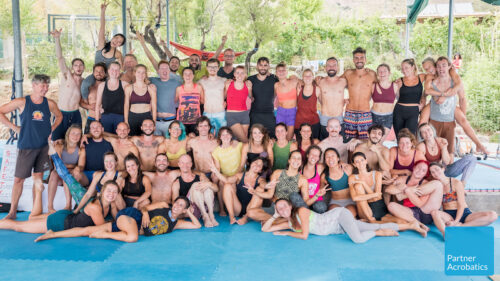 The Students
There's something about the types of people that do acro. They always tend to be warm, approachable, funny and sometimes a little strange (in a good way). This group was all of those things.
It took me by surprise how quickly I, as an introvert, felt comfortable around 55 new people. Partner acrobatics requires trust, cooperation, communication, openness, vulnerability and sharing all of those things with each other brought us close in no time.
The Community
I really can't express how much being in a community of such great people meant to me. We lifted each other up. We supported each other through the ups and downs that naturally happen when you're physically and mentally exhausted at times during an intensive teacher training. I felt like I could be fully myself, as strange, tired or goofy as I might feel at times.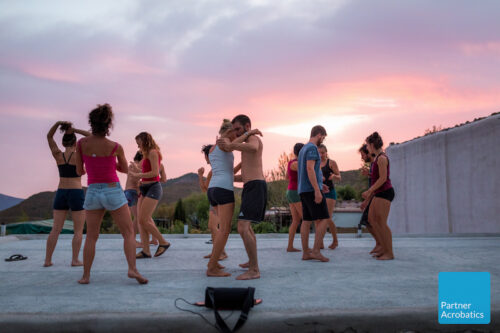 As opposed to my yoga teacher training, which was all about working with the self and the inner journey, this acro training was all about community and connection. Knowing that I will have friends to stay with in so many different parts of the world now is incredible.
The Location
The training took place at Cortijo Casería del Mercado. An organic farm in the middle of the mountains with the nearest town a 40 minute walk away.
We could pick fresh pears, almonds, peaches, cape gooseberries, blackberries, figs, grapes directly of the trees and eat them. The outdoor training space overlooking a panoramic view of the mountains was just gorgeous.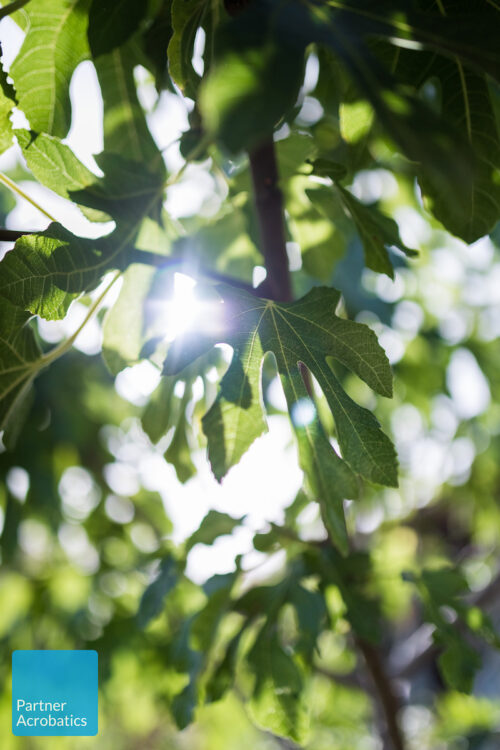 The Food
The food was Southern European in style and quite tasty. Lots of pasta, pesto, tomatoes from the farm, and other vegetables. As a vegetarian, sometimes I would've liked more protein sources in my food, as I got hungry quite quickly, when the meals consisted primarily of carbs. The kitchen were definitely open for requests though, so there were more beans and chickpeas in the food in the second half of the training, which was more filling.
With 6-8 hours of training every day, I was eating a lot more than I usually do to sustain all of the training. If you have any dietary needs, I definitely recommend bringing supplements along with you.
The location is far away from the nearest supermarket, so anything you might need during the 4 weeks, bring it! Next time, I'm definitely bringing more snacks, protein powder and iron supplements 🙂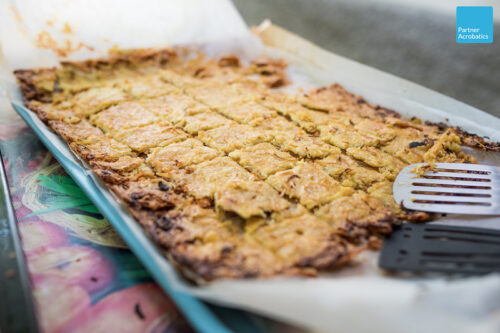 The Accommodation
There was both indoor accommodation or the possibility of sleeping outdoors in a tent. I chose the latter and perhaps I was a little optimistic with my choice of mat. The hard, dry mountain ground is definitely not the softest, so I definitely recommend bringing a good quality sleeping mattress, if you plan on going for the camping options.
Aside from my terrible mattress, waking up in a tent with a view overlooking the mountains as the sun was rising, I felt super privileged and lucky.
What I'm coming home with
I'm returning home from the partner acrobatics teacher training with a stronger acro practice, and a lot of new friendships all over the world. I really want to hold on to and cultivate the connection, the presence, the community, the vulnerability that I experienced when I return home.
I want to be more present in my relationships with other people. I want to remember how important touch is and how much a gentle touch can do to make people feel seen, acknowledged, accepted. I want to remember how great daily movement makes my body feel. I want to remember how meaningful it is to invest in people. To open up to them, to see them for who they are and to lift them up.
---
Do you have any questions? Would you like to see some acro yoga or standing acrobatics tutorials for beginners here on the blog? Please leave me a comment below!