Free Resources
I love talking about yoga, handstands, and personal growth. I love thinking up ideas and step-by-step frameworks that are going to make a difference to someone's yoga practice, and I love that excited, high-pitched exchange in a conversation where you both just get it. I also believe that everyone has the ability to find a way to incorporate yoga into their daily life that feeds their soul and helps them find empowerment, self-confidence, and joy in their life.
You just may need a little help along the way.
Ebook: The complete wrist guide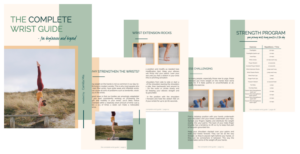 Mini-course: 7 days to start a yoga self-practice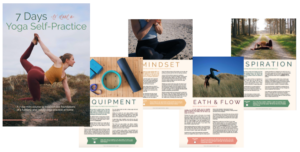 So that's why I've emptied so much of my knowledge and experience into these free resources (and upcoming ones) – basically I just can't help myself. As long as they help you take a step to start and sustain a yoga or handstand practice that makes you feel good, then I'm happy. All the resources here are based on my years of practicing yoga and handstands with yogis, acrobats, movement coaches, and myself, as well as the exercises that my yoga students have found the most useful.
So if you're looking for inspiration and know-how to start practicing yoga, deepening your practice, or learn handstands in an empowering and soulful way, you'll get it all here.