Are you considering signing up for a yoga teacher training? Maybe you're finding yourself overwhelmed from the sheer amount of teacher training offerings out there and don't know how to choose? If that's how you feel I can assure you, you're not alone. But I'm hoping this blog post will help you on your way to making the right decision for you 🙂
Signing up for a yoga teacher training is a HUGE decision. It's an investment when it comes to money, time, and energy. That's why it's super important to consider the different possibilities that are out there and find the one that suits you best!
There are so many things to consider when choosing your yoga teacher training: like the practicalities such as budget, duration, location, and the size of the group. But beyond that, there are other things that play a big role when you want to find the right yoga teacher training for you. I've divided all of the different aspects to consider into categories to (hopefully) make it a little bit more simple.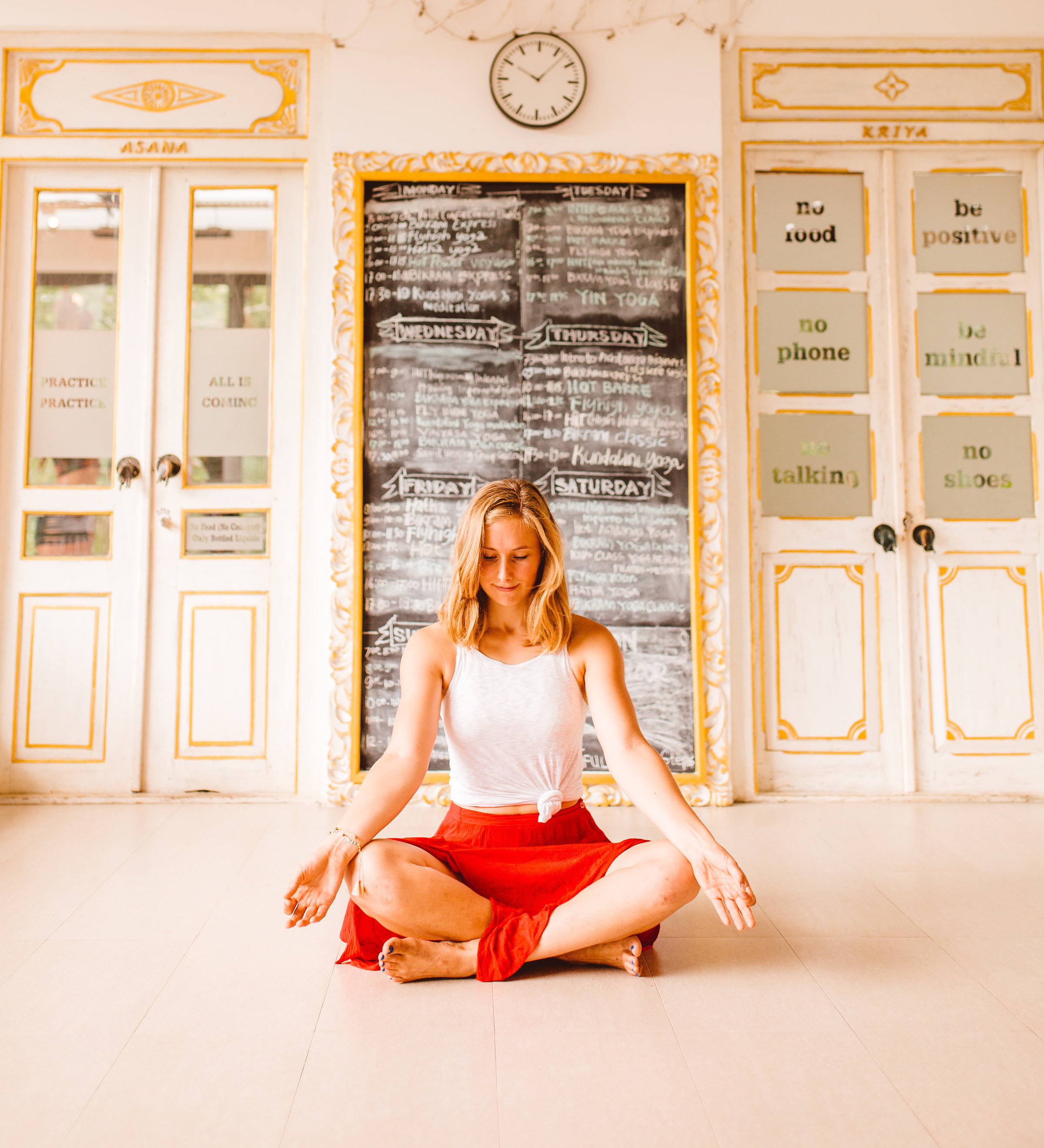 Do your research!
If you're in a rush (and don't have time to read the whole thing), I urge you to do your research before signing up for any 200 hour or 300 hour yoga teacher training. The number one thing, I want you to take away from this post is to MAKE SURE THE YOGA INSTRUCTORS AND MISSION STATEMENT OF YOUR YOGA TEACHER TRAINING ALIGNS WITH YOUR OWN VALUES AND THE WAY YOU WANT TO TEACH. That part is going be what makes or breaks you as a teacher.
If the way the yoga instructors of your training are teaching and their values or morals aren't lining up with what you believe, you're stuck with a certification and a way of teaching that doesn't feel authentic to you. To me, being able to feel authentic as a yoga teacher is so important. When you're teaching, other people (your future students) can sense authenticity. You want to feel comfortable in your own words and your own body when you're teaching.
Do your research before signing up for any yoga teacher training. Make sure you're in love with the teachers and in love with what they stand for. In love with their mission statement and in love with their style of teaching. Make sure your teachers resonates with you, your own practice and how you see yourself growing and embodying what they're teaching you as a future yoga instructor.
Okay, I hope you decided to do your research before you sign up for a training.
Now, let's get into what you want to research and consider!

Your Intention
What is your intention behind doing a yoga teacher training? It takes a lot of time, energy, and money to do one so get really clear on your reason behind it. Are you doing it because you want to become a full-time yoga teacher afterwards? For the sake of personal development? Or perhaps to dive deeper in your own yoga practice?
No intention is wrong, but just make sure you know why you want to do a training. Your intention behind participating in a yoga teacher training can have a say in which type of training that would meet your expectations the best. Even if your intentions end up changing along the way (perhaps you surprise yourself later on by wanting to teach yoga even if you signed up for the sake of your own practice).
Style of Yoga
There are so many styles of yoga out there. There are very dynamic yoga styles like ashtanga yoga, vinyasa yoga, and power yoga, there are softer, slower styles like restorative yoga and yin yoga, and then there are styles somewhere in between like kundalini yoga, strala yoga, hatha yoga, and iyengar yoga.
The first question you want to ask yourself is, what style of yoga do I want my yoga teacher training to focus on? It probably doesn't make sense for you to do your teacher training in restorative yoga if you are planning to teach a more dynamic style of yoga. It also wouldn't make sense to spend a month doing hatha yoga if you wanted a training that could take you deeper in your ashtanga yoga practice.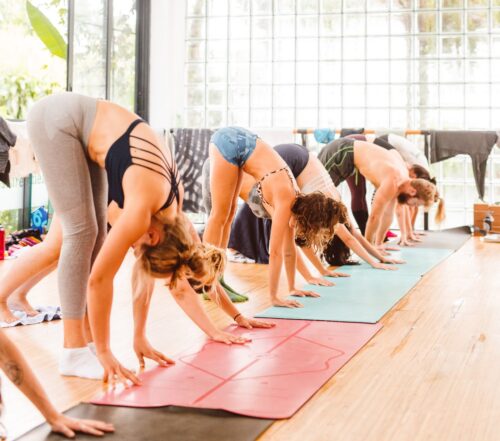 Choose a training that focuses on a style of yoga that you want to spend time and energy diving into. It's definitely beneficial to be quite familiar with the style of yoga your training is focused on beforehand. That way you'll be physically prepared for what's to come, which is especially advantageous if the training is taught as an intensive.
If you have teaching in mind, then pick a training that teaches a style of yoga you want to teach afterwards. It's also possible to find trainings, which teach a mixture of different yoga styles if you find it difficult to settle only on one style of yoga.
Intensive or Extended Structure
Some trainings are offered as intensives, where you deep dive up to 12 hours a day for 3-4 weeks. Other trainings have a more extended format and are often offered in the weekends spanning several months. There are pros and cons for both options and different aspects to consider when choosing a training structure.
Intensive style yoga teacher trainings
Pros
Can be taken abroad, giving you heaps more training options to choose between.
Can be done as a holiday or in connection with travels abroad
Very immediately transformational physically and mentally because it's taught as a full-time deep dive.
Potential to form closer bonds with the other trainees because you're spending time together when you have time off and share experiences of being abroad together
Cons
Sometimes more expensive because you need to consider flights, accommodation, etc.
Very intense and no time in between lessons to digest and apply what you learned
If you get sick or injured during the training you might miss out on a lot of lessons
It can be difficult to get 3-4 weeks off work.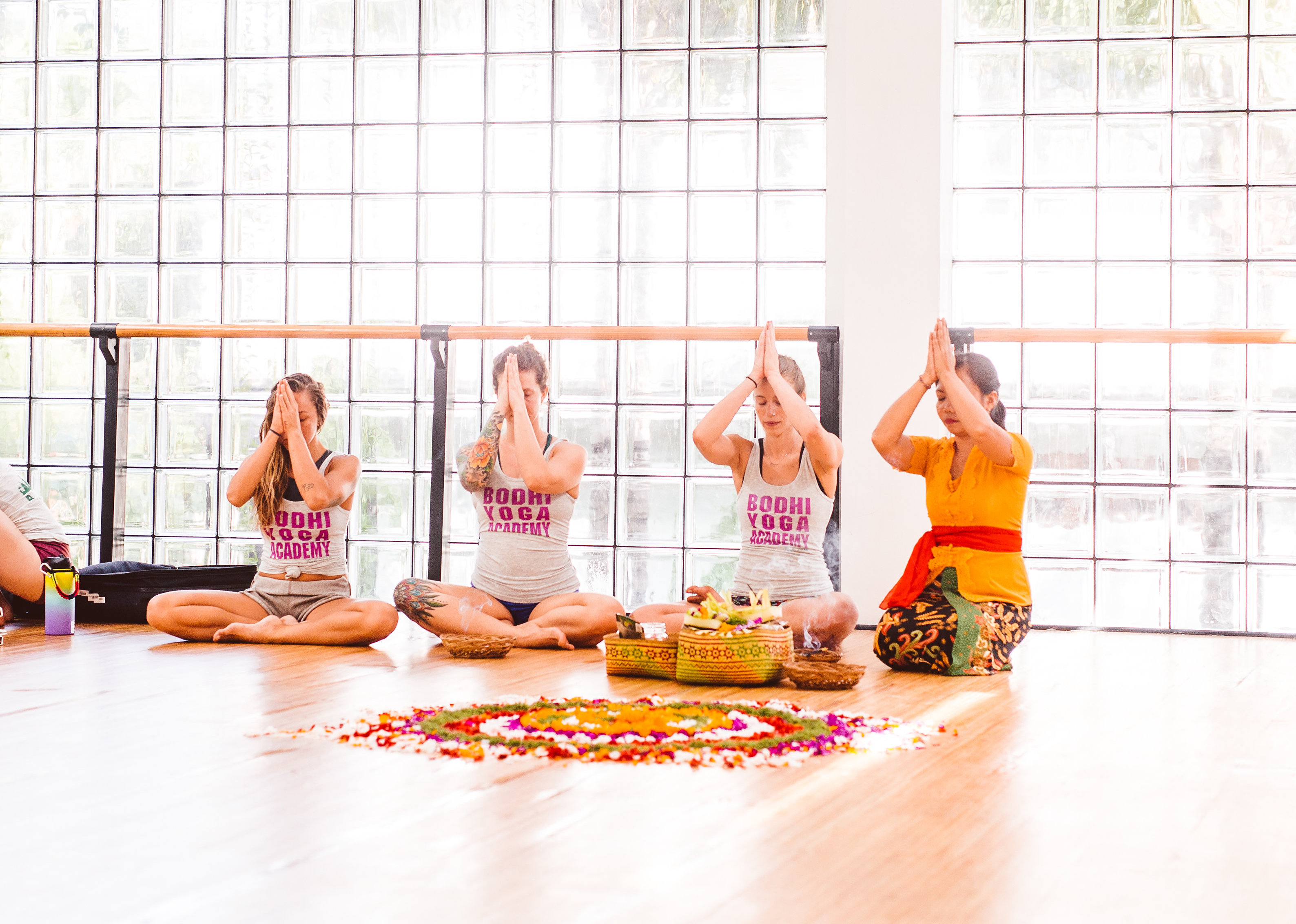 Extended teacher trainings
Pros
You gain local connections/contacts in the area you want to teach afterwards
More time to process and apply what you learn continuously because the lessons are spread out more
More time to rest and recover (mentally and physically) in between training days
It's local, so you don't need to buy plane tickets, accommodation, etc.
You don't have to take time off work to participate
Cons
Less trainings to choose from because they have to be local
Not as immediately transformational physically because you have more time in between training weekends
Can be very demanding to have long training days in the weekends after a full work week.
Both types of yoga teacher training structures have pros and cons. It might be easier for you to take 3-4 weeks off work/other obligations and do the training in one go instead of spending every weekend off work participating in the training. Or perhaps, it's hard to get that many weeks off work (or other obligations) in a row, in which case you'd want to opt for the extended format.
It might give you better time to process and apply what you learn, if the training spans over a longer amount of time. But the training might feel more transformational if you take an intensive training and completely deep dive into the yoga practice for 3-4 weeks.
Find out how you are best able to fit your yoga teacher training into your life and pick a style of training that fits into your life and meets your wishes.
---
Tired of dealing with aching wrists in your practice?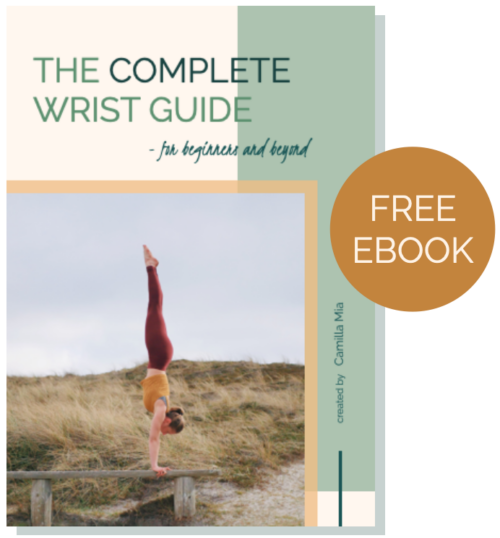 Get The Complete Wrist Guide so you can practice yoga, arm balances, and handstands with ease and stability!
The ebook includes 17 exercises that build strength and flexibility in your wrists and forearms, two exercise program templates, and a printable wrist exercise sheet, along with tips on how to position your hands and distribute weight in your palms for optimal comfort and balance.
---
Length of Training
Some teacher trainings can be shorter than the classic 200h – like a 100h basic training or 50h intensive. If you solely want to participate in a training do dive deeper into your own practice, a shorter training might be enough to do that.
If you have teaching in mind, you might want to choose a 200 hour training. It all depends on what your experience level already is and what the yoga scene looks like in your area. If every teacher in your city has a 200h training, you might have better chance of getting a job afterwards if you have the same (or higher) level of training.
Teachers
Picking the right teachers – this part is so crucial for your experience with your yoga teacher training. I cannot say this enough times – find a training with teachers that resonate with you! You're going to learn from your teachers over the course of 200 hours (or 50-100h). That is a lot of time. If you're not resonating with their style of teaching, your experience is not going to be as inspiring, fulfilling, and transformational as it has the potential to be.
I highly recommend taking classes with the teachers you're considering before you sign up for a training. If the training you've got your eye on is in a different country, perhaps they have an online class available you can try? At the very least, read about them or look them up on social media. Try to work out whether their style of teaching, personality and values match with yours. In my opinion, you get the best learning experiences from teachers you truly admire, respect and look up to.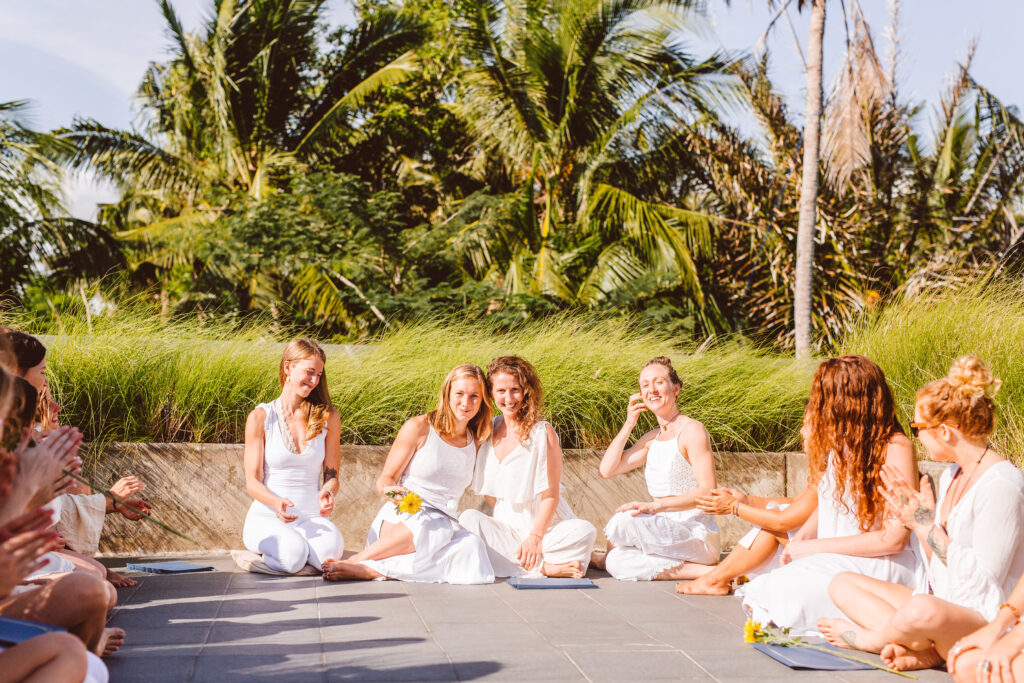 Yoga School
When looking through yoga schools, the first thing you want to check is their credentials. Some yoga schools are certified by Yoga Alliance (YA) or a similar association, meaning their yoga teacher trainings have to live up to certain standards. You might want to start there. Whether or not your training is certified by YA might be important later on. Some studios only employ yoga teachers with a certified training, so keep that in mind when you're looking through different yoga schools.
The next thing you want to find out is the experience level of the school. Is it the first time they're offering a teacher training or have they been running them successfully for several years? If the school has experience with previous trainings you can look up reviews from past students to read about their experience with the training.
Some yoga schools tend to employ past teacher trainees in their studios. If you want to get a job in a specific studio you might want to consider doing your training with that school.
Budget
The price of a yoga teacher training isn't necessarily directly related to the quality of it. Yoga teacher training is a big investment and prices range anywhere between 1,000-10,000. Schools price their tuition based on factors such as geography, taxes, residential or off-site accommodation, group size, etc.
Most newly graduated yoga teachers do not make a lot of income right off the bat. It can take a long time before a new yoga teacher can teach enough studio classes or privates to earn a full-time income. Most have to start out taking on another part-time job to sustain themselves.
Finding a training that fits your budget will really help you get of to a better start. Borrowing from friends or taking out a loan to pay for your tuition isn't the best idea if you know you won't be able to return that money any time soon.
I suggest looking for yoga schools that offer early bird discounts, scholarship programs, work exchange, and payments by installment.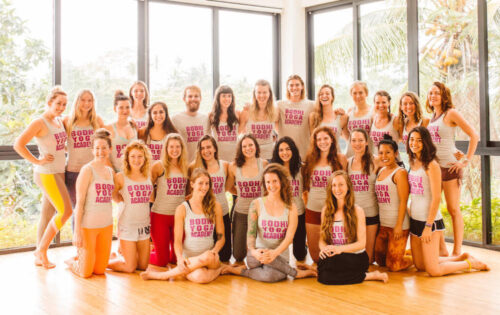 Size of Group
The size of teacher trainee groups can vary a lot. Some schools run small and intimate groups of 10-20 students, others run bigger groups of up to 50 students. There are pros and cons to both.
With a smaller group size, you'll receive more individual attention, feedback and tips. In a bigger group you have a better chance of finding peers you really connect with and there will likely be more examples of different body types which can create interesting discussions and give you a broader experience when you practice teaching asana.
For many, I'd say a medium sized group is the best option. That way there are enough peers present to have some diversity (with respect to body type and personality) in the group. Enabling you to find and form close relationships with like-minded people, experience examples of many different body types in yoga, all the while being a group size that's still small enough that your individual voice will be heard.
Curriculum
Even amongst Yoga Alliance certified yoga teacher trainings, the training curriculums can vary widely.
I recommend reading through the description of the training. Usually there's a sample schedule included so you can find out how the training hours are going to be spent.
Some training barely include any yoga philosophy, while others do. The same thing goes for meditation, breathwork, spirituality, asana, business, anatomy, physiology, and all the other aspects of teaching yoga. Find out which topics you want your training to put an emphasis on and find a training that matches those.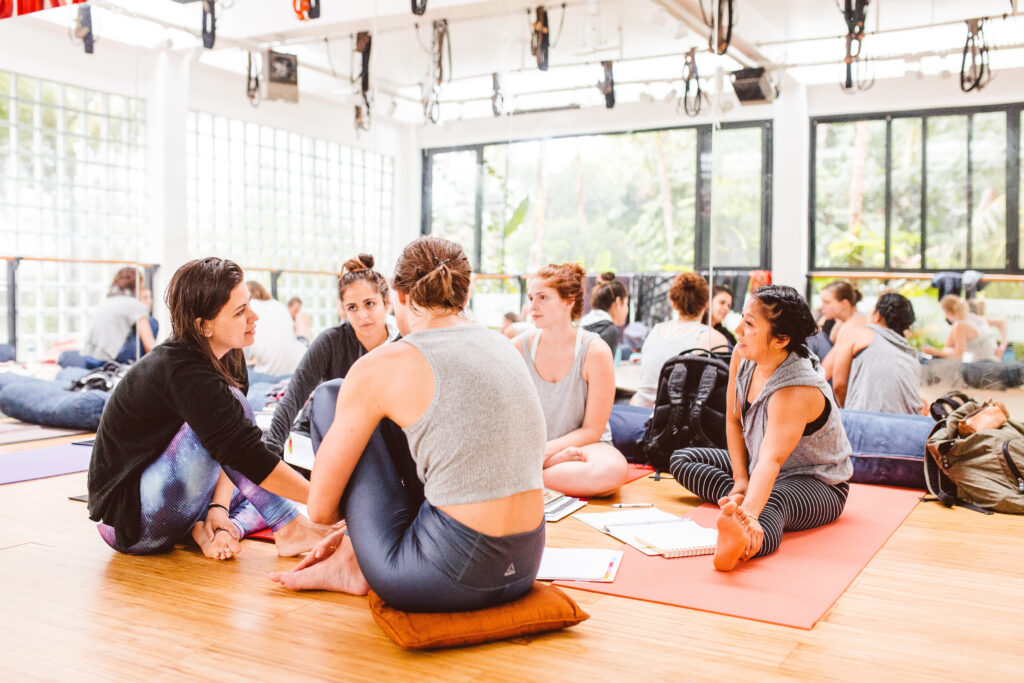 Location
It might seem trivial, but the actual location of your training might be worth taking a look at. The location can have an influence on your ability to absorb new things. If you're travelling to do your training, is it located in a place you'd like to visit? Some yoga teacher trainings are situated high up in the mountains, others are located right by beautiful beaches.
You are making a financial (+ time & energy) investment on your training, so why not experience it somewhere you've always wanted to travel, and spend your rest days your new environment?
If you're doing your training locally, it might be worth checking out the facilities of the yoga school. I'm not saying you should choose a different yoga teacher training if the facilities aren't top notch, but just consider how many hours you're going to be spending in that place and make sure you're okay with that.
---
How I picked my yoga teacher training
I choose to do my yoga teacher training with Bodhi Yoga Academy in July '18 for many reasons. First of all my favourite style of yoga was (and still is!) vinyasa yoga, so my training had to be vinyasa-based.
Beyond that though, the teachers resonated with me. I had taken online classes with Irene Pappas and I followed both Irene and Sam on social media. From that, I knew I liked their teaching style and resonated with their values and overall message.
The course curriculum was well-rounded and had a bigger emphasis on the philosophy and the ethics of yoga than most other trainings. This was a must for me as I wanted to know about the philosophy of yoga if I was going to teach it (as a bonus it ended up teaching me so much about myself).
I knew my training had to be in an intensive format, so I could participate in it during my holidays from uni, so the 3 week intensive yoga teacher training with Bodhi Yoga Academy in Bali fit all my wishes.
---
I really hope this post helped you get closer to choosing the right yoga teacher training for you! Please feel free to comment or ask me anything if you have any questions 🙂