** For Pitaya Yoga discount code, scroll down **
Hi there! How are you?
It's been a while but I'm still alive! Hehe.
I'm still doing lots of handstands and I'm still teaching acroyoga!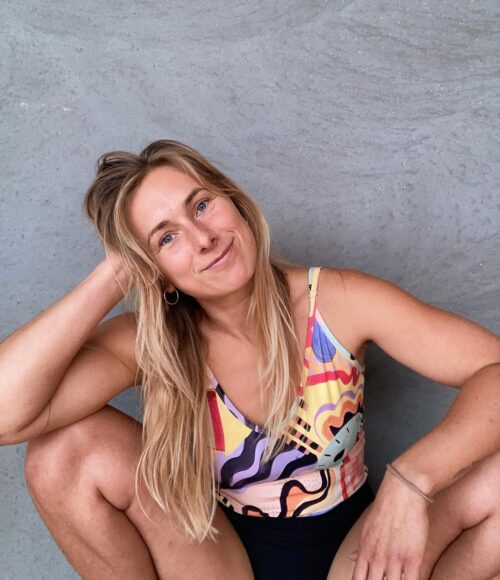 The main difference since last time I published a blog post is that I'm now 2 years into my Bachelors of Physiotherapy. I know sooo much more about anatomy and how the body works! AND I'm really using that knowledge when I teach handstands and acroyoga! and in my own movement practice.
It's been SUCH a game changer!
I just came back from a summer spent traveling around Europe. A summer spent teaching acroyoga, yoga, and handstands, participating in acroyoga festivals, and visiting my fellow movement addict friends in different cities across the continent. I also enjoyed a little bit of van life and swimming at beautiful beaches too!
Pitaya Yoga Discount Code
During my summer I was lucky enough to reunite with Sara – one of the founders of the brand Pitaya Yoga! A brand I've known and loved for a while. I'm so excited to say that I've collaborated with her and her brand to get a 15% discount code for Pitaya Yoga!! So you and the rest of my readers/followers can save on their cute, soft, and playful yoga wear!
The discount code for 15% off Pitaya Yoga is "CAMILLAMIIA".
You can type the discount code in at checkout OR simply click the button below to shop and the 15% off will be applied automatically.
---
Why Pitaya Yoga?
Anyone that knows me well, knows that I care deeply about female empowerment, inclusivity, and sustainability!
Pitaya Yoga was an easy choice for a collaboration because it's eco-friendly, ethically made and female-owned. 3 things I look out for when I choose to support projects and brands!
The brand Pitaya Yoga has values such as gender equality, female empowerment, inclusivity, sustainability. Every one of Pitaya Yoga's hand sketched prints is created with a cause in mind! A part of the proceeds from every purchase of a Pitaya Yoga collection is donated to a non-profit that supports a good cause!! You can read more about some of the causes Pitaya Yoga supports here.
How are you?
So, how are you? It's been a while and I'd love to know what you're up to these days. What your favourite brands are? and what you're looking for info about on this blog!?
I'd love to do more tutorial or tips+tricks types of posts again related to handstands, flexibility, acroyoga, injury rehabilitation, mindfulness, breathwork… And the list goes on! Hehe! SO many interests. I feel like I have so much to share and learn yet to come. So let me know what you're interested in! and stay tuned for more content soon!
If you want to stay more up to date with my life, Instagram is where I hang out the most. You can find me by clicking here.
Take care and talk soon!
Hugs from Cammie xo